Talk@Ease helps you speak English more confidently. Read here how!
‍
Practice talking with our unique, self-developed talkbot developed with the help of British and American voiceover artists. Feel free to chat with them, answer their questions, pay attention to how they react to your answers, respond and decide which way to steer the conversation!
Voice control commands
(Please) repeat
in case you didn't understand the question
Previous / Previous question (please) / Back (please)
use this when you want to listen to the previous question again
Next / Next question (please) / Skip (please)
this command takes you to the next question of the conversation
Stop / Pause (please)
if you'd like to take a break from the conversation
Slow / Slower (please)
use this command to ask your conversation partner to speak slower
Fast / Faster (please)
this makes your conversation partner talk at normal speed again
Speak up (please) / Louder
this is how you can ask your conversation partner to speak up
Quiet (please) / Quieter
this way, you can indicate to your conversation partner to speak more quietly
KEEP IN MIND! Your conversation partner will only hear you when the microphone icon appears at the bottom of the screen and/or you hear the beep indicating recording (in order to hear this, it's important to make sure the notification button isn't muted on your phone)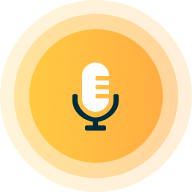 If you gave a wrong answer to a question or if the microphone of your smart phone couldn't correctly record what you said, your conversation partner will ask you to repeat your answer. In this case, repeat your answer.

You can read possible responses and listen to them spoken by native English speakers if the text hint icon is enabled. Tap on one of the responses and repeat the sentence to continue the conversation.
What's more, you can get suggestions for even more possible responses by tapping on the lightbulb icon.
Use the
fixed mode
for the comprehensive grammatical check. The
fixed mode
is set to repeat the same
optional
word content.
Use the flexible mode to speak more freely. The flexible mode is adaptable by responding to the keywords in the content.